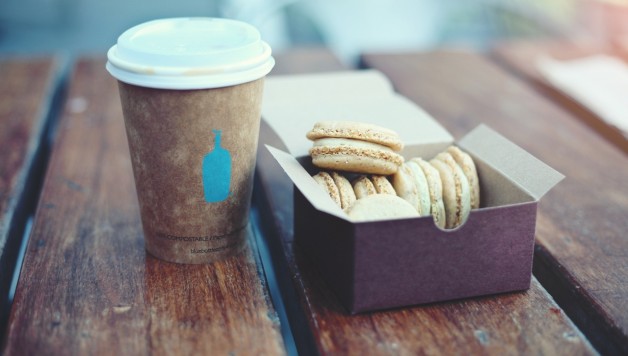 Where to Eat in Bucharest
After spending over a month in the city, these our picks for cheap places to eat in Bucharest.
1. Caru' cu Bere
This is by far the most tourist-friendly restaurant in Bucharest, so don't be surprised if you see a lot of visitors here who are having lunch after sightseeing. It is located in Bucharest's Old Town area, so you'll have plenty of places to visit nearby. The restaurant is really large, but you'll definitely need a reservation if you plan on going there for dinner. They serve a variety of local dishes, such as veal and pork steak, and smoked sausages, and the restaurant's beer is also really good. The menu is in both English and Romanian and the staff is very friendly. Also, you'll get a lot of food for a decent cost, but if you're unsure as to what you should order, there are a couple of three-course menus you can pick from. I usually order the vegetable cream soup with croutons and the homemade chocolate cake.
2. Lacrimi şi Sfinţi
This restaurant offers a large selection of Romanian dishes made of organic ingredients from local farms. Therefore, the prices might be high for someone on a budget, but the food is excellent. The restaurant opens late in the day, so you won't be able to stop for breakfast. However, it's a very popular destination for those who want to enjoy a traditional Romanian dinner. Some of the most popular dishes are based on fish, duck, and beef, but they serve various cold starters and soups as well. The fish soup and duck steak with cabbage dishes are quite good.
3. Shift Pub
This pub is located near a small, yet delightful park called Grădina Icoanei. It has a decent selection of light dishes, which includes soup, salad, and homemade pasta, but also a wide variety of alcoholic and non-alcoholic beverages. However, most people come here for the atmosphere, as the place is known for its music and intimate concerts. The pub opens pretty early in the morning, so you can stop for breakfast, but you can also drop by as late as 1 AM for a drink. Also, the pub is located inside an early 20th century house, so you can eat both indoors and in the garden.
4. Café Verona
This small bar/restaurant is located 10-15 minutes away from Shift Pub, in the interior of Cărtureşti bookstore (which also has a nice selection of books in various languages). The venue is known for its Bohemian atmosphere and it's a great stop if you're visiting Bucharest in the warmer months when the terrace is open. The selection of drinks is pretty good and there are enough dishes available if you want to enjoy a quick breakfast or lunch. The salads are really good, especially the salmon and spinach ones.
5. La Copac
This restaurant is just 5 minutes away from Café Verona, so you can definitely check it out if you want to enjoy a larger meal. The prices are very low, so it's perfectly acceptable for visitors on a tight budget, and the wine is also pretty good. For this reason, don't be surprised if you see a lot of students stopping by after their classes. You can easily have breakfast, lunch and dinner here, and the daily menu pretty popular. I highly recommend coming here in the summer, when the terrace is open and the atmosphere is pleasant. During the cooler seasons, you can sit indoors, but there is no non-smokers section (which is a problem with many small Romanian restaurants and cafes).