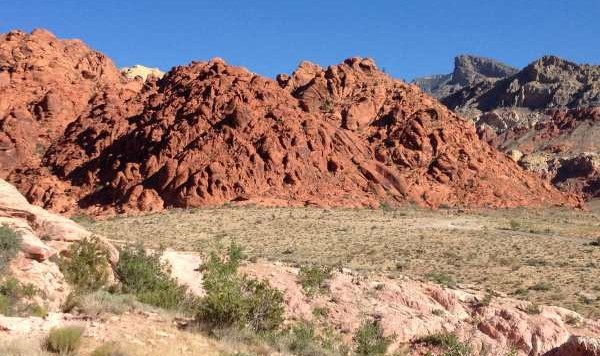 Is Las Vegas a Good Choice if You Want to Relax?
Published On September 5, 2015 |
Travel
Las Vegas has a reputation as the world's greatest party town, but what if what you're wanting is to de-stress from a hard year at work. Can it work for that type of trip?
The answer is yes, but there are some tips you'll need to know.
- Las Vegas is surrounded by amazing desert mountains. These are very relaxing. In as little as 30 minutes you can drive out to Red Rock Canyon and walk some short trails. It'll take your breath away. Even the drive out there has amazing views and colors.
- Vegas doesn't have much of a shoulder season in terms of weather. It's either blazing hot or, during winter, cold. Winter temperatures involve highs around 10-15C most days. Definitely not swimming pool weather, but not cold either. It'll still be ultra sunny in winter. In summer, expect temperatures around 40C, but it's dry heat so it feels more like 32-33C. Spring and Autumn seem to only last few weeks – the seasonal changes are abrupt. If you really hate hot weather then come to Las Vegas in Winter. If you like hot weather, but you're scared it might be too hot, don't be too scared. It's easy to cool down in summer due to swimming pools and air con.
- The Strip isn't very relaxing. It's crowded and the casinos are built as labyrinths to make as difficult as possible to exit once you're inside. They want you to have to walk through miles of slot machines to get back to the self parking or the exit! That said, if you're prepared for that then you can choose whether you'd rather stay on the Strip or off Strip. You might choose to do a mixture. If you don't want to rent a car, then stay on the Strip. If you do want rent a car, stay a few miles from the Strip. The Strip hotels all offer free self parking. You could stay Downtown but if you're looking for a calm experience then that's not going to provide it. There are plenty of non-casino hotels off the Strip – where it wont take 15 mins to get from your car to your room! – and you won't usually be stung with "resort fees" that add $20-30 a night to your room rate at casino hotels.
- Although the casino level of the Strip isn't relaxing, if you're high above in in your hotel room, you can have a perfectly relaxing time. Rooms have awesome black out curtains so you can have a good lie in. Since gambling subsidizes the room rates, staying in Las Vegas can be very affordable and you can get a luxury hotel stay at a good rate. N.B Rates are much lower on weekdays than weekends, often less than half. They are more expensive on holiday weekends and when there's a popular festival on.
- The Bellagio fountain is nice if you fancy a nighttime stroll. It's relaxing despite being very crowded.
- If you stay south of the strip, you can visit Town Square, which is a very nice upscale mall with an Apple store, a Wholefoods supermarket and much more. There are also some fun outdoor playground options there for people travelling with kids. And, you can also buy discounted show tickets at the Tix for Tonight booth.
- Sunset Park is a great place to chill out in the evenings if you're looking for a relaxing experience in Vegas. Lorenzi Park, northwest of the Strip has great playgrounds and a fountain park where your children can play and cool down.
Below is a good documentary if you're interested in learning about the history of Las Vegas