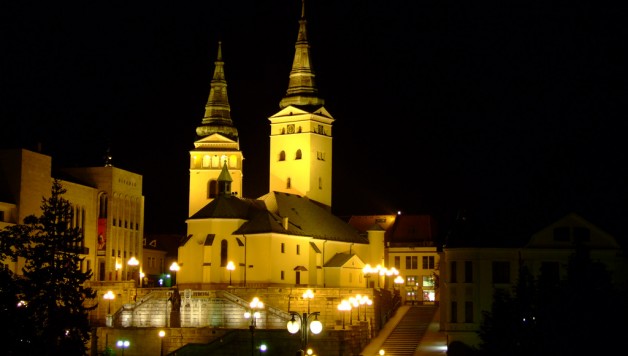 This post was written by our friend Tom who lives in Romania.
We asked him to write about some of the lesser known Romanian cities that he visits frequently.
Take it away Tom…
Zilina is a city located on the North of Slovakia. It is quite easy to get there- you may take a train from nearly any city in Europe – this city connects Slovakia with Czech Republic and can also be quite easily reached from Bratislava or Kosice by train. This could take around 4 hours with classical trains and around 2 ours with InterCity trains.
If you find yourself traveling to Zilina, a great experience might be just ahead of you. Even though Zilina isn't really a big city, it can offer to you a bunch of good cafés and restaurants. Most of them are located around or in shopping centers Mirage and AUPARK, which are the biggest ones in Zilina region. They are within walking distance of each other and facilitate brands such as H&M, Gaudí, Intimisimi, Tom Tailor, Gant, Napapijri or L'Occitane – going through stores in both of them will definitely entertain you at least for half of the day. 
After you are done with your 'tour de Mirage,' you may relax yourself in a wonderful new Arabian restaurant named Habibi – Arabian food is not very popular, but after you have a lunch or a dinner in this place, you may actually fall in love with it. Food is very healthy, sometimes spicy and always prepared by an Arabian chief.
After you are done with the meal, you can order an aromatic drink – top-notch green tea or coffee, or, on a hot day, an ice-cold  home-made lemonade. Prices in this restaurant are even more than friendly, for a daily menu, you will pay around five Euro.
A must-visit café in Žilina is definitely Štúrbaks, name of which is quite possibly derived from the world famous chain Starbucks. You can find this rather small café right between AUPARK and Mirage. In Štúrbaks, you can expect only home-made desserts and drinks (apart from coffee and classical 'commercial' drinks, as staff calls them). The café offers a great English terrace with seasonal herbs, which are in summer and fall used in their splendid tea mixtures. Whether you would like to have Tiramisu or traditional Cheesecake, this café will definitely appeal to your senses.
And let's not forget a café again between Mirage and Aupark named Café Passage. It is one of the most popular cafés in Zilina, quite possibly because it offers a very wide range of coffee, drinks and various lemonades. Interior of this café is very interesting and definitely unforgettable – it is situated in an old building with lots of plants and old furniture inside, making it a very calm venue for all of your meetings with friends or business partners.
When visiting Zilina, it doesn't matter whether you go for Habibi, Šturbaks, Passage Café, or any other good café of restaurant – most of them provide you with very good services and you can be assured that after visiting any of them, you will be completely satisfied with your experience. However, Zilina isn't only shopping centers and good cafés – if you feel like going for some adventure, you can visit Budatín Castle or, in close vicinity, village Čičmany full of old architectonic treasures – mostly houses from medieval times.
photo credit: access.denied via photopin cc