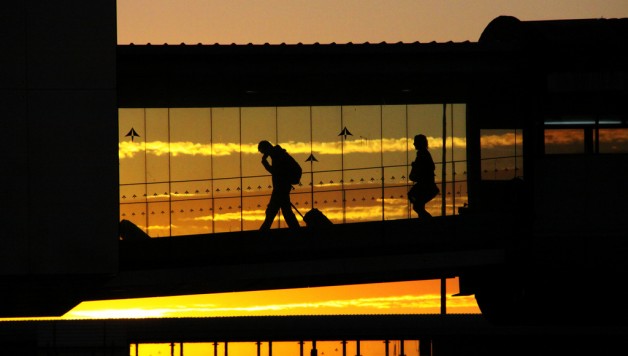 Tips for Leaving the Airport on a Layover
Published On July 23, 2015 |
Travel
A long layover doesn't necessarily mean that you have to put up with hanging out in airport purgatory. Get out, go see something. It will help the time to pass more quickly and you will feel refreshed and ready to continue your journey after a little excursion out into the real world. If you are travelling between countries make sure you've checked the transit visa requirements before your flight. I once spent an amazing day in Mumbai, India between flights. I had to organize a visa beforehand but it was worth it.
Go for a workout
If there aren't any workout facilities in the airport, find an airport hotel that has workout facilities and a free shuttle to and from the airport. If you call the hotel and ask nicely, they will likely let you use their facilities for a small fee (or maybe for free…even better!) If showering after your workout is important, look for a larger hotel and ask if they have any shower facilities in their pool or locker room for you to use.
Research your transit options ahead of time
Know how to escape from the airport. Find out what is the best way to get into the city on limited time. If you only have a few hours, you will want to get in and out as efficiently as possible. If taking public transit is going to take you an hour, and a taxi will only take you 30 minutes, consider what your limited layover time is worth and think about splurging for the taxi. Consider also that depending on, cost, driving and parking conditions, renting a car for a couple hours might be cheaper and faster than taking a taxi.
Pick and choose activities selectively
Pick one thing that you really want to do. Not two. Definitely not three. When you only have a short time, keeping your expectations in line with the time that you have will help you to enjoy what you do get a chance to see and to not feel rushed. Find something in the city that you really want to see, a museum or a restaurant that you saw on TV and just do that. That will be enough.
Arrange a Tour
Many cities have tours that specialize in showing the highlights of the city in a short period of time. A tour can be an easy way to get to and from the airport AND use efficient use of your limited time to really see the city and learn about it. Look to see if there are group tours like this. If you can't find anything, consider hiring a driver/guide for a couple hours of sightseeing. A google search for "tours by locals" should yield some websites with good options for local guides.
Find a Local Market
See if you can find a way to get yourself to a local farmers market during your layover. Visiting a local food market is a great and delicious way to experience local culture and get some fresh, healthy, tasty snacks for the rest of your journey!
Look into a day use hotel room
If you have a long enough layover and you really just want a clean, quiet place to shower, nap or work, look into renting a day use hotel room at a hotel near the airport that offers shuttle service. Many hotels (especially if they are not busy) will rent you a discounted room for just a few hours. You can rest and refresh and return to the airport ready to continue your journey.
photo credit: visualpanic via photopin cc