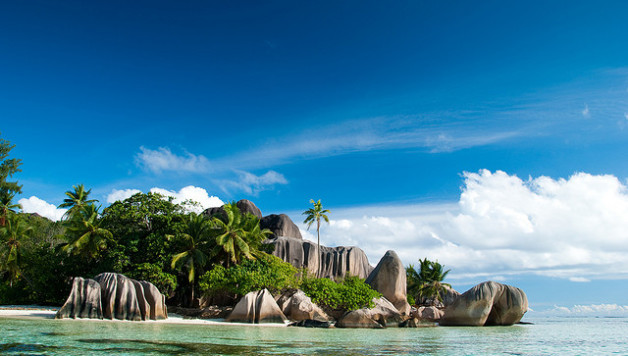 The Seychelles – What Dreams Are Made Of!
Published On July 27, 2015 |
Travel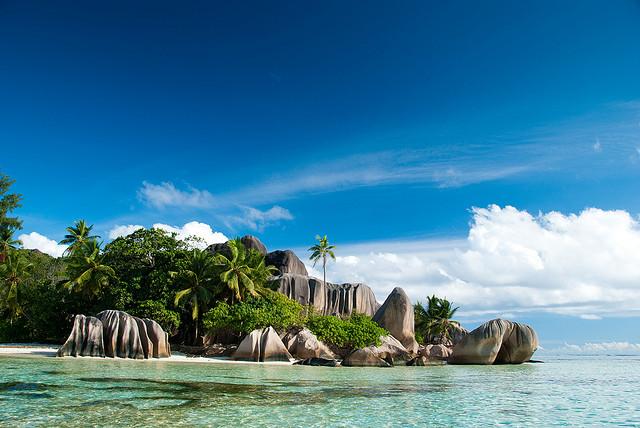 Anse Source d'Argent, La Digue Island.
An archipelago of 115 islands nestled in the warm waters of the Indian Ocean, and lying nearly 1000 miles east of Southeast Africa, the Seychelles is one of the world's premium holiday destinations and on many vacationer's wish list. And for good reason! It has a tropical climate, it's countryside is lush and green, and it's beaches unspoiled.
There is no bad time to visit the Seychelles as the temperature is stable throughout the year with daytime highs averaging 29C. Being a humid heat the southeast trade winds that run between May to November make visiting at that time of year particularly pleasant, as well as being the ideal time for surfing and windsurfing. While it is possible to get rain at any time of the year (the wetter months being November to April) the rain comes in short bursts and there are still many hours of sunshine every day. One can snorkel all year round but waters are best for diving between February-May, and September-November. Being an island nation, the Seychelles is a popular fishing destination, with many tourists choosing to treat themselves with a deep-sea fishing charter.
Most of the 115 islands are uninhabited with many comprising protected nature reserves and/or lying within national marine reserves. While many visitors like nothing more than to relax on an idyllic beach or cruise around the islands in a charter boat, there are plenty of physical activities for the more active holiday makers amongst us. I love nature walks and get very excited about seeing local flora and especially fauna. One of the recommended hill hikes with a great view at the top is the Copolia Trail on Mahe Island, 5km from Victoria. I have a special fondness for turtles (after swimming with them in Hawaii) and the Seychelles just happens to be home to a variety of turtle species and the Aldabra Giant Tortoise, so I'll be in heaven when I visit. The bird watching is great too, with frequent sightings of indigenous birds, as well as migratory birds in September-October. Depending on which island/s you visit other activities include horse riding and mountain biking, and if you're into golf there's an 18 hole course on Praslin.
Something that I always enjoy doing when I holiday in a new country is visiting local plantations of exotic crops that my home country doesn't produce. For example in Sri Lanka I visited a tea plantation and in Hawaii a coffee plantation. As well as the ubiquitous coconut, the Seychelles produces vanilla and cinnamon. I would be very interested to see how these spices are grown and prepared.
The main islands are Mahe, Praslin and La Digue, and all of them have some of the most spectacular beaches you will ever see. Three of the highest rated beaches in the Seychelles are Anse Lazio (Praslin), Anse Intendance (Mahe), and Anse Source d'Argent (La Digue). The largest island, Mahe is still only 60sq.miles in size and is home to the republic's capital, Victoria, and the international airport. Transport to the other islands is typically via ferries, light aircraft or helicopter. Accommodation ranges from super deluxe private island resorts through to boutique guesthouses and self-catering accommodation. There are Seychelles holiday resorts to suit all tastes and occasions. As you can imagine, the Seychelles is particularly popular amongst honeymooners. You maybe wondering, "how can I decide which breathtaking island to stay on when they are all so beautiful?" Well you can always make it easier on yourself by choosing a holiday itinerary that includes island hopping between several of them
Image by Didier Baertschiger under Creative Commons license.