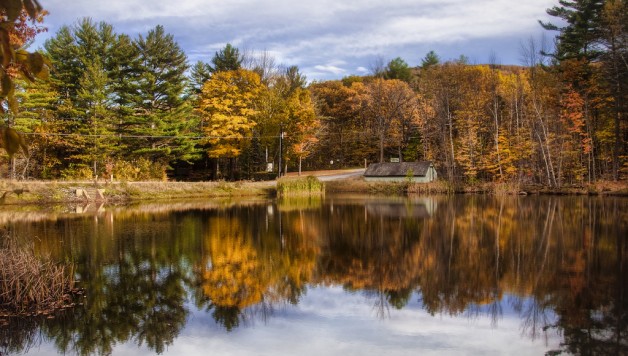 My Favourite Spots in New England
Published On May 6, 2015 |
Travel
New England is located in the northeastern corner of the United States and comprises six states – Maine, New Hampshire, Vermont, Massachusetts, Rhode Island and Connecticut. The Birthplace of America, as it is often called, has everything from sandy beaches, rocky shores, mountains, lakes, historic cities, gorgeous fall foliage and seafood restaurants. It is an ideal destination for people who love to spend time outdoors in nature and enjoy local food. So far I have explored the four northern states in New England and I would like to share my favourite spots.
Burlington and Lake Champlain, Vermont
Burlington is Vermont's largest city and has a large college student population. This creates a vibrant atmosphere – especially during the summer months – and the nightlife is brilliant. The Church Street Marketplace is a pedestrian shopping street and possibly my favorite street in New England. It is lined with trees, bars, restaurants, cafés and local shops. The city is located on the shore of Lake Champlain, which almost was one of the Great Lakes. There are great beaches and parks along the lakeshore. Oh, and Ben & Jerry's is headquartered in Burlington. That's always good to know.
Cog Railway, New Hampshire
Near Bretton Woods, NH, the Cog Railway climbs Mount Washington – New England's highest mountain peak – with a pace of about three miles per hour. It is in fact the oldest cog railway of its kind in the world. The trip to the top takes over one hour and the views of the White Mountains on the way up (and down as well) are fabulous. Of course, there are panoramic views at the summit too.
Acadia National Park, Maine
I can't get over the natural beauty of this national park. I love hiking and the hiking trails in this 47,000-acre piece of heaven are one of the best I have ever walked on. They run over mountain peaks with great views, along the coast and through forests. Places like this are exactly why I love this corner of the world so much.
Boston, Massachusetts
Boston is the oldest city in the United States and its history is the main reason why I like it. The Freedom Trail runs through the city center and past historic buildings and sites. There are some pretty great seafood restaurants around and a visit to Cambridge and the museums of Harvard is always fun. One of my favorite places in the Boston is Quincy Market by the way.
Portsmouth, New Hampshire
The seaside town of Portsmouth lies on the NH-ME border and is easily one of the most beautiful towns in the entire US. The historic Strawbery Banke neighborhood is filled with 18th and 19th-century wooden houses in all kinds of colors. I love its waterfront location and the parks on the shore of the Piscataqua River are great to hang out in on a hot summer's day.
photo credit: Werner Kunz via photopin cc