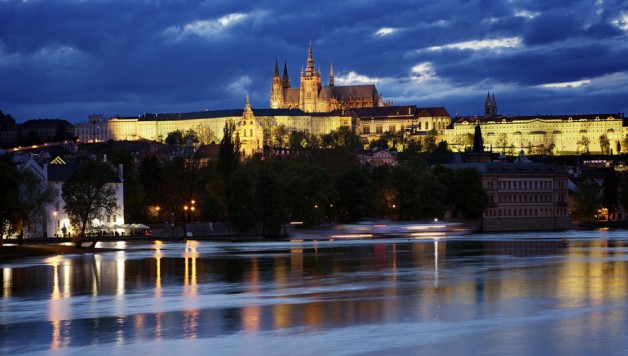 Prague, the capital city of Czech Republic is easily accessible by train or by plane. You can get to Prague from Slovakia as well as from Germany, Poland or Austria. Trains to Prague go every 30 minutes and planes land very often as well. For transport in Prague, you can use the tube – Prague is one of very few cities in Central Europe that has a tube.
Luxury dining is affordable in Prague. You may visit one of its two Michelin Star restaurants – La Degustation or Alcron at Radisson Blu Hotel. The lunch menus in these restaurants will cost you around 50 euro, which is not a small price to pay for a lunch but less than in many other cities. These restaurants will provide you with an exquisite food experience combined with professional staff, thus making your stay in Prague unforgettable.
However, Michelin-star restaurants aren't the only good restaurants in Prague – quite the contrary. Almost all restaurants are of very high quality. For instance restaurant Divinis will offer you one of the most romantic of ways of having a dinner – with lit candles. If you and your loved one feel like having good quality time spent together, you may just have the place! A lunch for two at Divinis is going to cost you around 40-50 euro, which is a very good price for a restaurant situated in the center of a capital city.
If you just don't feel like having a full menu, one of Prague's amazing cafés may be just the right choice for you. Of course, Sturbucks is available at many venues, but when visiting Prague, it might be better to see something different. Choco-Café u Klimenta will offer you the best home-made cakes (especially the Marble cake) served with high-quality coffee or tea. This café is perfect for an hour spent in Prague with friends.
Apart from these cafés and restaurants, you may spend your free time visiting rather huge mall named Palladium, or more traditional, Paris street. If you don't feel like shopping for clothes during your stay in Prague, why don't you go and see the farmers' market? Every week local farmers sell their produce there at the marketplace farmers market, including home-made dairy products, organic fruits and vegetables, even livestock. This way of spending Saturday morning is very popular among inhabitants of Prague and other cities in close vicinity.
Even though Prague may not sound like an exotic destination, you will most certainly enjoy yourself there and you will experience the spirit of this very old city.