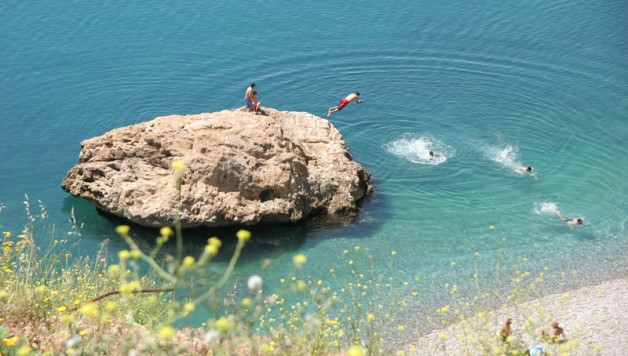 Planning a Short Break to Turkey
Turkey is warm, exotic, relatively cheap, and not too far away from the UK. What could be more perfect than that?
You have a few choices when you go to Turkey. One choice is beach break. Some of the cheapest flights from the UK go direct to Antalya and Dalaman on the coast. This is great because you don't have to book package to get the cheap airfare or the non-stop flight straight to beaches and sunshine. The flights starts at an incredibly low £50. And, they fly out of a variety of hubs, not just London. w00t w00t!
If you're looking for a city break, then we love Istanbul. It's the perfect destination if you fancy a weekend filled with coffee, sweets, and kebabs.
What to do in Turkey?
Well, we already mentioned the beach. That goes without saying. I'm not sure we need to tell you what to do at the beach. Bring your kindle, bring your sun block, and you're set.
Even though Istanbul is a chaotic big city. There are several good options for getting out in nature if you're coming to Turkey in need of relaxation.
For example, take the local ferry over to one of the Princes Islands. There are four islands to choose from. The ferries run from 6am till midnight so there will be no need to rush. Take your own food over to the islands to avoid getting overcharged for mediocre food. Once you're over there, you can rent bikes to cycle around or hike up to Agia Yorgis along the old Orthodox pilgrimage route. This is best done when it's not too hot.
The two smaller Princes islands, Kınalıada and Burgazada, are good for short hikes and getting away from the crowds. There are no cars allowed on the islands so they're really peaceful.
After all that nature, you'll need some food recommendations.
If you want to try a local buffet, try Beyaz lokanta. They're open for breakfast, lunch and dinner. This is also a great place for people watching.
For those of you who have a sweet tooth, try Saray Muhallebicisi if you're in Istanbul. You can get sütlaç (rice pudding), baklava and many other variations on nuts, honey and happiness.
Also in Istanbul, near the ferry port, is the Istanbul Art Modern Art Museum. Try Karakoy Lokantasi, which is next door to the Museum. It's a good place for lunch or dinner despite being in a touristy location next to the Museum.