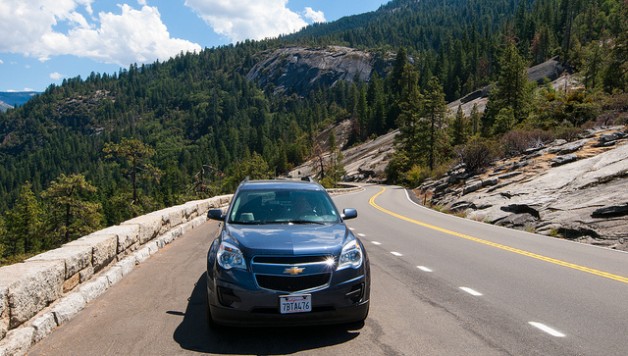 How to make your road trip more romantic  
Published On May 15, 2014 |
Travel
Road trips can be fun, exciting adventures, and extra special when shared with someone you love. If you're heading off on a road trip with your loved one then it's an opportunity to make memories and share some really special times. So set the sat.nav., pack the trunk and get going on the open road. Here's some tips adding that all important romance to your trip.
A trip to suit both your tastes
 
If you and your partner are both lovers of the great outdoors then you might want to camp on your road trip. 'Roughing it' can be romantic if you both enjoy it- snugging up in a tent, sleeping under the stars, cooking on a campfire. If one of you likes life to be a little more luxurious, however, you may want to head for the hotels instead. The important thing is choosing a style of road trip that suits both of your tastes.
 
Planning the route
 
Whilst getting lost from time to time can be an adventure, you don't want to spend your whole trip puzzling over a map or arguing about directions. Get together before your trip, and plan your route. Not only is this a great bonding experience, but it will ensure you are both on the same page about where you are going and how to get there. You may want to use a sat.nav/GPS once you hit the road, unless the person in the passenger seat particularly enjoys map reading.
 
Riding in style
 
Perhaps you're heading off in your beat up old car, or hiring something for the occasion. Whichever you choose there are plenty of ways to add some romance and style to your ride. If hiring, why not go for an old classic and hit the open road in vintage Americana style? Think sunglasses and vintage tunes on the stereo with the hood down. Whatever car you choose, make playlists on your iPod with different moods, and include songs that are special to you both.
 
Landmarks and landscapes
 
You'll want your road trip to be full of memorable moments, so check out special landscapes or landmarks on route. Perhaps you'll spend the night in a national park, visit the landmarks of a famous city or visit some of the country's best beaches. Plan these special adventures into your trip to ensure that you have plenty of memorable moments. Oh, and be sure to pack your camera (or just your iphone)!
 
Nothing is quite as romantic as a thoughtful gesture, and if your loved one enjoys a surprise then why not pack something special in the trunk? Perhaps it's champagne and chocolates to share in a beautiful place, or a hamper full off luxury picnic food. This may even be the time to pop the big question…
 
Ensuring that there is plenty of room for romance on your road trip means thoughtful planning that considers both your tastes. By adding those extra touches you can make special memories along the way.
Image by William Warby, shared under a Creative Commons Licence