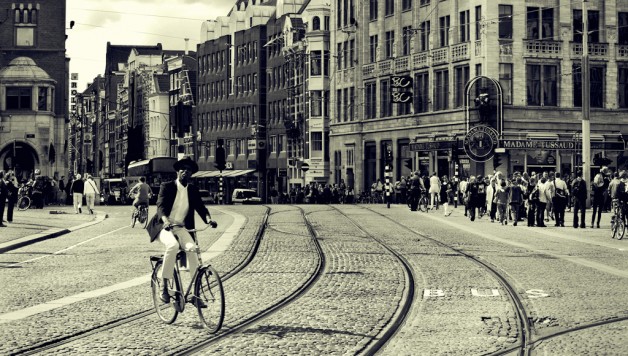 A weekend in Amsterdam
Published On June 4, 2015 |
Travel
Amsterdam used to have a reputation as party city – the place where you went when you wanted a large weekend, or you were organizing a stag party. Things seemed to have quietened down a bit now, or maybe as I'm getting older I'm just not quite as excited by the thought of a hash cookie as I used to be.
There are lots of ways to get to Amsterdam, by bike or train, by budget airline flight, or even via a Rhine River cruise.
If you are planning a mini-break from London, there are lots of flights and the prices are good. I prefer to take the train as you can take the Eurostar from St Pancras, change at Brussels and then you arrive into Amsterdam's central station. Door to door it takes about the same time as flying but either option is good.
Generally when I visit Amsterdam I use a private rental service such as Airbnb to find somewhere to stay – you need something central where you can walk everywhere. One of my favorites was in a 17th Century canal house on Binnenkant (about five minutes walk from the central station), but I always think that the best area to stay is in the neighborhood known as the Nine Streets. A network of canals and streets, the Nine Streets district is a mix of grand, narrow, residential houses, cool independent shops, and great cafes and restaurants.
A flat, compact city with very little traffic, everyone seems to cycle. The pavements and streets are fairly tight though and you have to keep your wits about you – the locals cycle fast and surprisingly aggressively, if you get in their way they will not hesitate to ride through you, glaring grumpily. In general the Dutch are warm and charming, they just seem to take their cycling quite seriously.
If you are vaguely interested in art then you are going to want to check out Amsterdam's Van Gogh museum. Whenever I think of Van Gogh I think of the sunflowers, the irises, the self-portraits – all mixed in with a big dose of crazy. I hadn't really appreciated the huge influence that Japanese art had had on him, or his long professional association with Gaugin. My favorite piece was 'Wheatfield Under Thunderclouds' – painted in 1890 as Van Gogh was nearing his death. Inspired by the fields surrounding Auvers (where he was living at the time), this painting features an enormous ominous sky and reminded me of the Spring thunderstorms that used to roll across the farm where I grew up.
They love their cheese in Amsterdam, but there are also a great selection of cafes and restaurants to hang out in. My favorite is Brug34 – a ridiculously cool corner cafe where you could almost pretend that you were as sophisticated, stylish, and tall as the locals that surrounded you.
The low-rise construction of Amsterdam and the ever-present water of the canals seems to somehow bring the sky closer, making the city feel light-filled and fresh even with only the smallest amount of sunshine breaking through the grey skies.
If I can give you one piece of advice it would be not to bother with a boat tour to cruise the canals. Possibly one of the worst touristy things I've ever done anywhere – you'll enjoy the city much more just by walking around and soaking in the atmosphere. Just watch out for the cyclists!
photo credit: josemanuelerre via photopin cc