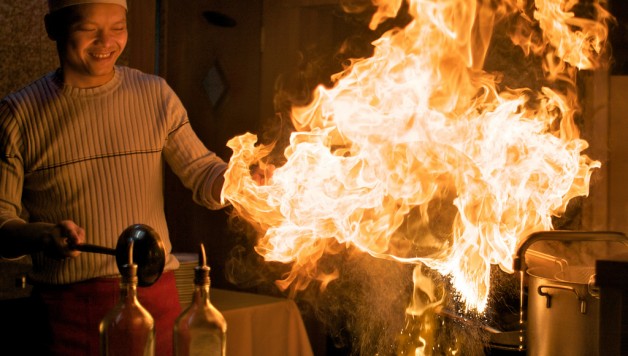 A Local's Guide to Cafés and Restaurants in Antwerp
Belgium is renowned around the world for its food – think fries, chocolate, waffles, beer,… – and Antwerp has its share of classy local and ethnic restaurants.
Antwerp is hip. Because of this cosmopolitan character Belgium's second city is a popular place among expats and business travellers.
It is Belgium's fashion capital and it is known for being the centre of the diamond trade – 85% of the world's rough diamonds pass through Antwerp each year. Being an old medieval city, it also attracts huge numbers of tourists.
Dessert, before or after dinner?
Sweet tooths are in heaven in Antwerp. Schrijnwerkerstraat and Kort Gasthuisstraat are two streets lined with chocolate shops and bakeries. You will find Neuhaus, Godiva and Philip's Biscuits, a speculaas maker.
An alternative place for coffee is 'Coffee &Vinyl', where you can browse through old LPs, records and singles while enjoying a cup of coffee. They have snacks too.
For a Belgian waffle you should head to 'Queen of Waffles', a bistro with an enormous choice of waffles and toppings that also serves other snacks, coffee and tea. It is located near the cathedral and the Market Square.
Bars and "Brown Cafes"
It would be impossible to list all the bars and brown cafés in Antwerp. The city centre is chock-full of them. It is recommended to just go out and walk around and try out some bars for yourself. Every single one will have an impressive selection of Belgian beers, bar games and ambiance. For a night out of clubbing, head to Café d'Anvers, a popular nightclub among young people and celebrities alike.
Restaurants
''t Fornuis' is a Michelin-starred restaurant located in a 16th-century building in Reyndersstraat. It is expensive, but it is one of the best restaurants in Belgium. You will find 'Sir Anthony van Dyck' in a small lane on the Oude Koornmarkt. They serve typical Belgian food. The little bistro/wine bar 'Bar(t)-à-Vin' is a hidden gem – sorry to use that expression, but it is true. Trying a steak or filet pur is highly recommended. The owner is a wine connoisseur and will provide you with suggestions. The best place to go for frites is 'Frituur No 1', also at the Oude Koornmarkt. There are many other frites stalls spread around the city though, and they all know how to serve a delicious portion of frites. 'Grand Café Horta' is located in an Art Nouveau building designed by Victor Horta. You find it on Street Hopland and mussels and frites are served in season. In winter they have a beer-based menu including three courses. At ''t Brantyser' the fish platter is suggested. You will get a mix of different seafoods and pieces of fish in a creamy sauce. Michelin-starred 'Gin-Fish' is a seafood restaurant without a menu. Instead the cook serves dishes made with the ingredients that he finds daily at the local markets. Of course there are many, many more recommended restaurants. The Market Square is fringed with brasseries and restaurants, but they aim at tourists. Prices are high compared to the food that you get.
Dinner and Movies?
For a quiet evening out, there are two movie theatres in Antwerp. UGC Antwerpen is located in the city centre, not far from the train station, on Van Ertbornstraat. Kinepolis is located north of the city centre along the Groenendaallaan.